Badass UFC champion Conor McGregor is fighting loudmouth boxer Floyd Mayweather on Saturday, August 26. But wait, you may be asking, aren't MMA and boxing two completely different sports? Yup, welcome to 2017. The bigger question is: Which rowdy fighter looks better naked? Here are the Conor McGregor nude photos to start settling that debate.
We've been wanting to see those Conor McGregor nude photos for a long time. Ever since it took the UFC champion only 13 seconds to knock-out the undefeated Jose Aldo during championship match in Las Vegas.
Related: For more nude photos of male celebs, check out Mr. Man
Now all our fantasies have come true: Conor McGregor has posed totally nude in ESPN's Body Issue 2016. Get a fistful of the images, GIFs and a behind-the-scenes video right here. Conor McGregor nude photos for all!
Conor's wild antics outside the cage that made him MMA's most notorious bad boy. He's a brash, cocky, super-aggro shit-talker who gives zero fucks, which makes him the perfect personality and showman to represent what Ultimate Fighting Championship is all about.
While most athletes choose to abstain from getting too frisky before a big match or championship game, Conor prefers to get the blood pumping before a big event. The Irish UFC superstar apparently doesn't believe in having all that pent-up sexual energy before a fight (or anytime really).
"That is most certainly a superstition that I do not abide by," Conor McGregor said on Conan O'Brien's TV show while promoting his upcoming featherweight championship match. "I definitely have as much sex as possible."
Considering Conor KO'd his opponent in just seconds, it's safe to assume that he had quite the epic pre-fight sex romp. No pent-up sexual frustration to be seen here, nope.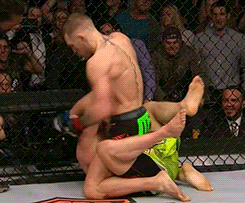 Related: [Photos] 25 Sexiest Male Athletes in the World
Conor is not just a troublemaker with a hot bod, however. The fiery MMA fighter spoke up in favor of marriage equality in Ireland. And in an interview with an Irish newspaper, he said: "I'd have no problem training with a gay guy. In MMA it doesn't matter what country you're from, what social standing you have, what sexual orientation you have, everyone does the same training and there's a level of respect between martial artists."
Conor's words to Aldo before the championship match? "I could rest my balls on your forehead." Below are more sexy images of Conor McGregor, to get a better picture.